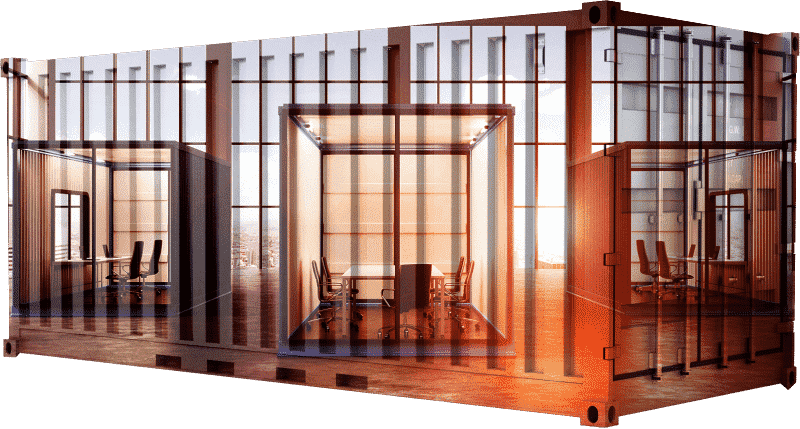 CUSTOMIZE A CONTAINER
Perfect for specific needs, unusual requirements, and creative ideas
USE CASES
Mobile offices & portable workshops
Micro-dwellings & off-grid living
Specialty equipment housing
Heated & lit climate controlled storage/spaces
Need a customized container for a particular use? We can help you to make the perfect one for your needs.
At London Container, we provide containers' modification as an extension to our containers' selling and renting services. You can order customizations for any new or used container you need.
We can personalize any aspect of the container as per your needs and requests. On a standalone basis, or in combination. And it can be literally anything you want/need added to your containers.
Our partners use our containers' modification service in countless of ways, and to solve all sorts of problems either structural, dimensional, or functional.
We also provide customized units for equipped spaces for housing, office or home extensions, or as condition-specific environments or use-cases.
It can go as specific as you need it to be.
Our team of experts can help you decide the types of containers you need, and the right customizations to fulfill your needs, and the right way to make them implemented.
We can help at all stages of the process, starting with the design, engineering, fabrication/building, delivery, and installation.
We would love to hear about your container customization project.
Call us at 519-933-0766 or use the following form to reach out.
We would love to help you. So don't hesitate to reach out if you have any question. We always respond!
Shipping Containers, or sea cans, are reusable rugged steel enclosures designed to transport cargo on trucks, trains and ships. They are easy to transport, secure, waterproof, rodent proof, and fire resistant. They are engineered to be stackable and self supporting from their 4 corner castings, allowing them to be safely placed on most flat firm surfaces with minimal site preparation.
These unique benefits also make shipping containers a cost effective building block that can be modified into just about anything. They can be used for storage, container homes, retail stores, restaurants, portable offices, workshops, generator enclosures, water treatment facilities, complex multilevel buildings or whatever you can imagine.
Built to last in the roughest conditions, these ingenious multipurpose enclosures can hold their value for decades, being repaired, re-purposed and modified numerous times before eventually being recycled back into steel.
Containers are very customizable. The utility offered by a container can be increased dramatically with simple additions such as a rollup door or window. Basic modifications can be added to any container, just let our Mod team; know what you're looking for.
Some popular basic modification options include, but are not limited to:
Man doors
Rollup Doors
Windows
Spray foam insulation
Lights
Vents
Framing
Custom painting
Decals / Branding
Welded lock box
We also cut containers to custom lengths. High Cube options are available for most containers sizes. For a relatively little extra cost, they provide more utility for certain projects and allow 8ft ceilings to be maintained even after the installation of ceiling joists, insulation, and lining.
At London Container we work with you to determine the best solution to your needs. Below is an example of the process for personalized custom projects:
An estimate and quote are prepared by our application engineers and sales team
We work with you to optimize the estimate within the available budget
Once the project scope is agreed upon, you receive a sales contract
Work begins once the sales contract is signed and a deposit collected
If required, our engineers will prepare drawings for your approval
Our purchasing department orders materials
Fabrication is completed in our facility
Delivery is arranged
Setup at site is completed